Waterfront Home Buying Guide: 7 Questions to Ask First
Lakefront properties are a dream come true for many homeowners. There's nothing quite like waking up to the sound of waves lapping against the shoreline or enjoying a beautiful sunset over the water. Lake homes can be beautiful and serene, but they come with their own factors to consider.
By asking the following questions before buying a lakefront property, homebuyers can be confident that they're making a wise investment.
Is There a Lake Association?
One of the first things to consider is whether or not a lake association exists and if it has dues and restrictions. If there's a lake association, they will likely have bylaws regarding the lakefront property. These can include everything from how high fences can be to what types of boats may be used on the lake, down to whether or not homeowners can have a dock. Before buying into a lake community, read any lake association bylaws thoroughly. Homebuyers may also want to ask if the lake association has dues, as these will typically need to be paid monthly and could run a few hundred dollars per month depending on the community.
Is the Lake Suited to Particular Activities?
Some lakefront property owners are looking for a lake with activities suited to them, while others are just looking for an aesthetic lakefront with no intention of getting into the water. Homebuyers should look for a lake that offers opportunities for their favorite lakefront activities. For example, is the lake stocked for fishing? What's the wind like for sailing? How suitable is the lake for swimming? How easy is it to get a boat on the water?
Is There a Dock?
Many lakefront homeowners invest in lakefront property because they want their own dock. It's often considered one of the essential things to buy for a lakefront home. Before purchasing a lakefront property, determine what type of dock is on the property, if any. If there isn't one, do any improvements need to be made before building? If there is a pre-existing dock, when was it last maintained? What condition is it in? There are several factors to consider before building a dock, such as stationary vs. floating, whether to hire a professional or DIY, how the lake bed may affect the build, and more.
What's the Property's Shoreline Like?
Before buying lakefront property, it's important to take note of the shoreline and how steep the walk is from the home to the water. Is it rocky or sandy? Does the ground tend to be muddy or weedy? Are there any unexpected drop-offs, such as cliffs? What does this mean for the homebuyer's plans for the property?
What's the Water Level Like?
Some lakes rise and fall with the seasons, and some remain static most of the time. Knowing whether this is the case for the lakefront property under consideration is vital for planning. If the water level rises and falls, how does that affect the home, dock, and shore?
Is There Shared Access to the Water?
Depending on where a person is buying lakefront property, water access may be private or shared. Whether or not the neighbors have access to an easement that leads down to the water can affect a homeowner's plans. If there is shared access or a public easement in place, homeowners must plan any landscaping, docks, or other outdoor home improvements so this access isn't blocked and prepare for others having access to their property.
What's the Community Like?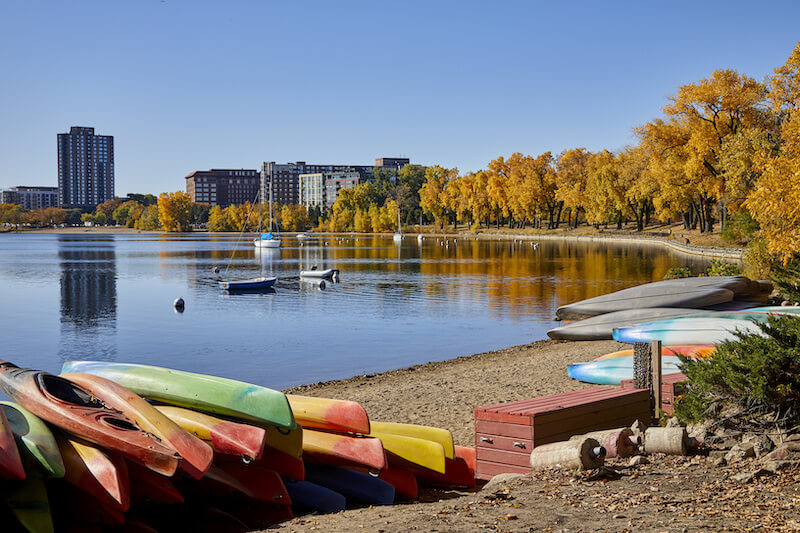 The people who live in the area surrounding a home can have just as much effect on a homeowner's life as the lake itself. In some cases, homeowners buy into a community that shares their same outdoor interests and will spur friendly competitions with others on the water. In other cases, homeowners might enjoy being part of a quiet neighborhood where neighbors are scarce.
Homebuyers should look for a community with similar interests. It's also important to ask about local clubs, associations, and other opportunities for outdoor activities in the area. For example, are there fishing groups or sailing organizations nearby? Are there events that take place at the lake regularly?
It's also worth considering whether the neighbors are full-time residents. Lake houses make for very desirable vacation homes, affecting how often neighboring dwellings are occupied. They may even be used as rental properties. Aside from how this may involve a homeowner's experience, whether vacation or rental properties are common or unusual in the community may be something homebuyers want to know if they're considering renting out their property for vacation purposes.
Find Your Dream Lake Home Today
Lakefront property can be a fantastic, rewarding purchase for the right buyer. Homebuyers should research before buying lakefront property to ensure that it's the right choice for them and they're getting a suitable home on the water. By asking key questions about the lake, the community, and any shared access points, buyers will be better prepared to make an informed decision.